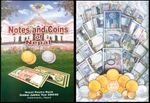 Nepal Rastra Bank the Currency issuing authority of Nepal has published a very informative book called "Notes and Coins of Nepal." This hard covered book is published in 2006 on the occasion of the Golden Jubilee of Nepal Rastra Bank. The book contains two sections for the Bank notes and coins of Nepal. The bank note section of the book gives the detailed information about the printer, quantity printed, size and color of the notes, prefix serial numbers and replacement details of most of the notes issued since 1945 to 2006. Colored specimen illustrations are shown in actual size with printer's name of all banknotes.
It is a first officially printed book, which has given glossary of all the Nepali vernacular numerals and text details used on banknotes.
It will definitely help ease the collector to specialize on the field of Nepal bank note collection. The coin section is subdivided for commemorative and regular coins. The commemorative coins issued since 1984 to 2005 are illustrated with all detailed specifications. Similarly the regular coins issued since 1982 are shown along with the Gold coin Asarfi. All coin details and specifications are provided by Nepal Rastra Bank, Currency Management Department, Mint Division. Book has art bound paper 140 pages size 8.5" x 24" with hard cover.