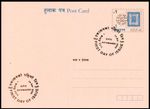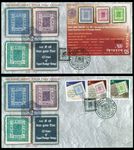 1) On April 14th, 2006 one locally printed postal card of Rupee one was issued with the image of 1 anna first issue postage stamp of Nepal. Only 8,963 pieces of this post card were printed and sold out on same day. Hence, it will be a scarce item soon. A must have item for the Nepal postal stationary collectors.
2) On October 9th, 2006 a set of three postage stamp of Rupees 100, 20 and 5 were issued to commemorate this occasion. The images of 1 anna, 2 anna and 4 anna first issued postage stamp and the classic cancellation are depicted on these three stamps. First Day Cancellations were done on this occasion.
3) One Souvenir Sheet of Rupees 125 denomination with 1 anna, 2 anna and 4 anna first postage stamps were also issued on this occasion.
The images of all three items are shown here.