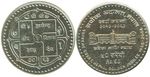 On May 21st o6' Nepal Rastra Bank has issued a 10 gram Ashraphi and Rupees 50 (as shown here in the scanned image) denomination copper nickel coin to commemorate the Golden Jubilee of the supreme court of Nepal. Quantity minted Ashraphi 1000 pcs and the other coin 10000 pcs.

Ashraphi costs 18000 Rupees about $ 257.00 and prices are fluctuating every day.

Obverse has regular design and Reverse has Supreme Court building with 'Justice for all' legend in vernacular Nepali. Surrounded by 'Supreme court Nepal, Golden Jubilee 1956 – 2006' in English and Nepali.