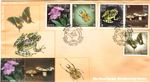 On 12th June 2006 Government of Nepal, Postal Service Department has issued a beautiful set of five Postage Stamps for 'Bio- diversity series 2006'. The 10 Rupees each denomination set contains;




Beautiful Nepalese Primrose Flower.

White Pine Mushroom.

Hard winged insect Chaffer Beetle.

Imperial Butterfly.

Beautiful Stream Frog Hario Paha.



Order can be placed for these stamps and First Day Covers directly to;

The Postal Service Department,
Nepal Philatelic Bureau,
Kathmandu.

Email – philatelic@hons.com.np
Website – http://www.nepalpost.gov.np